The Complete Letters of Oscar Wilde
              < Published by Fourth Estate limited 2000>

My own personal love affair with Oscar Wilde began in 70's Dublin when walking through Merrion Square I noticed that Number One had the birth plate bearing Oscar's name. My companion assured me that Oscar had not been born there but at Westland Row. I prefer to think that he was born in that beautiful Georgian house.
As with all love affairs, one wants to know everything one possibly can about the person they love, even wanting to learn about their school days. In "The Complete Letters of Oscar Wilde" edited by Oscar's grandson Merlin Holland, and Rupert Hart-Davis, Oscar's first letter to his mother written from his school in Enniskillen reminds her that the shirts she had sent to him were his brother Willie's, he writes, that his were "one quite scarlet and the other lilac" . Oscar was eight at the time.
In 1874, during his time at Magdalene College, he travelled to Italy and his adult letters began. This wonderful book contains letters amongst others to Arthur Conan Doyle, Walt Whitman, and to the many friends he appeared to have, although we know now that he was deserted by many latterly. I found the letters to his own "dear boy" Bosie, some of the most poignant. From Reading he writes "Our souls were made for one another and by knowing yours through love mine has transcended many evils, understood perfection and entered into the divine essence of things". To his friend Robert Ross, Oscar shows his hurt towards Lord Alfred Douglas and writes to Robert asking him to retrieve the gifts he had given to Bosie that had included a gold cigarette case, a pearl chain and enamelled locket.
It is impossible not to be moved by some of the letters in this book. From the exalted beginnings of Oscar's early life where the reader is led through the chandeliered salons of London, Paris and America, one knows the dreadful end in sight for Oscar. In his final letter to his beloved Bosie whilst incarcerated in Reading, in what appears to have taken him three months to write, he says " For my sake I must forgive you, one cannot always keep an adder in one's breast and feed on one, nor rise up every night to sow thorns in the garden of one's soul".

Wilde's body lies in the cemetery of Pere Lachaise in Paris. The book tells us that his own words mark the place where he lies :
" And alien tears will fill for him
  Pity's long- broken urn
  For his mourners will be outcast men
   And outcasts always mourn."

One day I will visit where he must surely lie in peace and whisper to him that I, and many others have loved him.
Cathy Brennan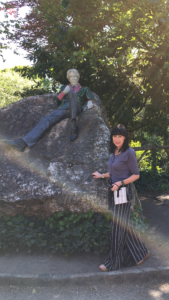 Statue of Oscar Wilde in Merrion Square Garden
 Danny Osborne, Sculptor.