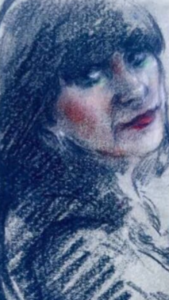 Sketch Tomás Baleztena
My formative years were spent on a farm in the West of Ireland. In my poem "On Remembering", I have included verses that even today can transport me back to that happy time.
As a writer who grew up in Ireland, it is in my humble opinion, impossible, not to be influenced by the poetry that I believe is Ireland. I could of course be biased. The beauty of her landscape is inspiring. Many have lauded her-many have written of her enslavement-some have cursed her- some long for her, as did W.B.Yeats in his poem "The Lake Isle of Innisfree".
Then there are the sons and daughters of Ireland-the sons and daughters of Róisín Dubh. Those who tell stories far into the night of the Banshee whom they will swear foretold of an unexpected death. They sing songs of emigrant ships that will have the stranger wondering if he can be born again as an Irishman.
I trained as a nurse in England in the Sixties before going back to Ireland to work in a Dublin hospital. It was during this time that I discovered my metier-my medium- a place of quiet within me that heretofore had eluded me. I began to write.
My contemporaries would remember my having my head in books of poetry or with a scribble pad and pen in my hand. I met with the visionary and poet William Blake, and with Oscar Wilde- They became my constant companions- Wilde would become one of my greatest influences whom, many years later, would lead a now grown up son to accommodate me with an overnight stay at the Cadogan Hotel and sleep in the very room where Oscar was to be arrested.
I later went on to write a piece on the "Letters of Oscar Wilde" which was published in the Times. As this was my first foray into the world of public writing, I believed this opportunity to be Oscar's gift to me . (See under "Other Words")
Some years ago I was presented with the opportunity to read a work of mine on Yorkshire television.
Writing has become a major part of my life. As much as it is for my personal edification, I have been uplifted by family and dear friends who have heard my poetry readings and encouraged me to place my writings on this worldwide medium.